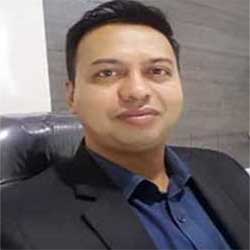 Cosmetic/Plastic Surgeon
MS, MCh
Address: swami Vivekananda Nagar, Above Axis Bank, Telephone Nagar, Indore.
Madhya Pradesh 452001
Email: drjaiswal@cosmeticsurgery.in
ABOUT Dr. Sumeet Jaiswal
When you are not happy with the appearance of your nose or have injured it in an accident, you might want to visit a Rhinoplasty surgeon to correct its shape. Dr. Sumeet Jaiswal is a renowned nose surgeon in this regard and holds a commendable history of performing successful nose surgeries over the years. MS and M.Ch by qualification, Dr. Sumeet Jaiswal holds dexterity in carrying nose jobs. Depending on the condition and requirement of the patient, he can change the shape of the bone (upper portion of the nose structure), cartilage (lower portion), and skin of the nose or all of them. If you just cannot wait to get an accentuated nose shape, fixing an appointment with Dr. Sumeet would be a smart decision. He is beyond doubt the best surgeon in Indore to contact if you want a gratifying nose restoration.