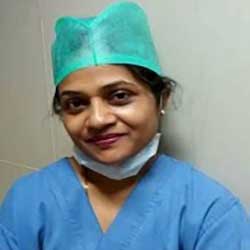 Cosmetic/Plastic Surgeon
MS, MCh
Address: Chitrakoot Marg, KPG Manson, Landmark:
Near Akshar Dham Mandir, Jaipur
Email: drbundele@cosmeticsurgery.in
ABOUT DR. VARSHA BUNDELE
Rhinoplasty is the nose surgery that can give your nose an enhanced shape by correcting the visible defect. It requires the surgeon to rearrange or reshape the nose cartilage and bone as per the requirement. The entire surgery requires extreme precision for best results, which is where Dr. Varsha Bundele in Jaipur holds adept expertise. Having qualifications like MBBS, MS and MCh, complemented well with years of experience, Dr. Varsha is among the best surgeons in India to perform nose surgery. Over the years, she has helped many patients get an enhanced facial appearance by changing the angle of nose, modifying the nose tip, or correcting the bumps, indentations and other nose anomalies. She is beyond doubt one of the most trustworthy plastic surgeons to approach for nose surgery.